STANDARD PRODUCTS
Wet Booths
PBT (Parker Biotron) System
Parker Engineering has been dedicating our efforts to actualize both the environmental conservation and improvement of productivity. One of the results is our innovative paint sludge processing system, PBT( Parker Biotron ) System.
PBT System is …
A biotechnological paint sludge recovery system. It enables us to decompose the sludge by using harmless microbes instead of using chemicals such as aggregating agent. The organic materials (resin components) contained within the paint will be decomposed into CO2 and water and only the pigment settles down at the bottom in a sandy condition.
Effects
Reduced cost of sludge disposal.
Reduced water consumption due to the booth cleaning term extension.

Reduced Labor in removing the paint adhered to the tank or the static pressure room.
Mechanization of sludge recovery by using centrifugal separator.

Drastic odor reduction of solvent in the circulation water and reduction of the foul smell of the water.
Ability to use the circulation water in the booth longer due to the slowdown of water rot.
Types of systems
Small size
The easiest to install —- by placing the reactor unit into a circulation tank of your paint booth and aerating.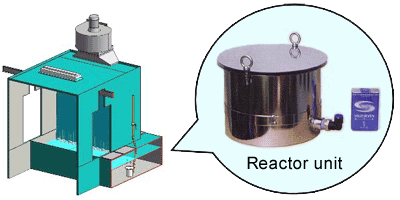 Medium size
This system is equipped with an aeration system, centrifugal separator, etc. By using this system, you can expect the remarkable power of microbes for sludge recovery.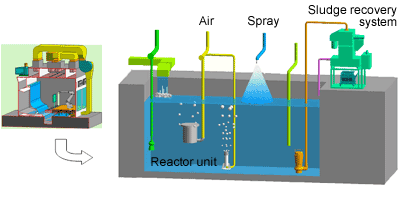 Large size
This system is used for a large volume of water. It can deal with 100 to 200 tons of water.