FOR GENERAL INDUSTRIES
Paint Booths / Paint applications / Ovens
Paint booths, paint applications and ovens are important processes to determine the surface qualities.
Parker Engineering provides optimized painting systems and the EcoDryScrubber for small paint booths to achieve energy savings and reduced environmental burden in cooperation with Dürr.
We can also supply a large booth which combines the function of paint applications and curing oven with high energy efficiency.
Powder coating
We propose the most suitable paint system.
Paint applicators are one of the most important devices that directly affect the film qualities and paint consumption.
We can offer a wide range of equipment according to the various painting conditions. Regarding the powder coating,we can supply the latest equipment developed and supplied by our own resources backed by wide range of experience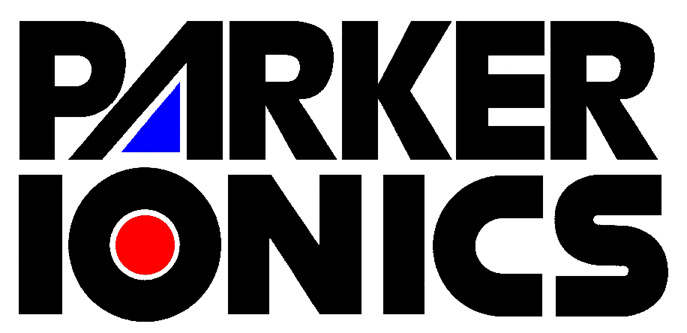 Integrated spray & drying booth for large work
Special purpose vehicles and even airplanes can be painted!
In case that large installation area is required for painting and drying, e.g. special purpose vehicles and airplanes etc. , an integrated spray & drying booth is used.
We can supply energy efficient equipment even for super-size integrated booth for airplanes utilizing superior consulting capability.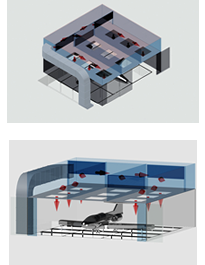 ESS Paint Booth
Reduced power consumption with recirculated supply air
ESS: Energy Saving System
This paint booth saves approximately 25% powerconsumption with recirculated supply air.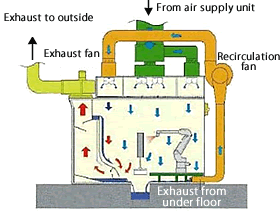 PBT system (Parker BioTron system)
Instantly decompose sludge with contribution to the environment
This is a revolutionary system which instantly biodegrades the sludge of water scrubber booth with the latest biotechnology.
The microbes decompose the organic content in paint (resins) into water and carbon dioxide. Only pigments settle as sandy sludge.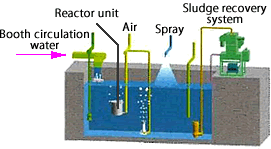 Since no chemicals are used, this system is not only environmentally friendly and safe, but also contributes to the reduced costs through less water consumption due to longer booth cleaning cycle, less sludge disposal, less operational labor and so on.

More information about PBT system

EcoDryScrubber
Advantages of dry separation are now available in small booths
Dürr has developed a new EcoDryScrubber which can be installed for small paint booths, the working deck of which is near the factory floor level.
Although the overspray intake of the existing EcoDryScrubber was located at the upper end of the hopper, that of the new EcoDryScrubber has been relocated to the right lateral side of the hopper. This design change has lowered the operational level of painting work significantly.
Now, EcoDryScrubber can be used in the general painting industries as well as the automotive industry. A real booth for demonstration is available for your visit at the Dürr Technology Center Tokyo.

More information about the Eco DryScrubber

Dry-off ovens / Curing ovens
Optimized equipment with low operating costs
To broadly categorize, there are two types of ovens, dry-off ovens after pretreatment and curing ovens
after painting.
According to the material of the work, production throughput, layout restrictions and so on, there are
further more varieties.
We provide the most suitable ovens with high qualities and low operating costs based on rich experiences.
| | |
| --- | --- |
| Example of a curing oven for parts | Example of an oven for parts |