FOR GENERAL INDUSTRIES
Pretreatment equipment / E-coat equipment
According to the requirements of the surface treatment, the work has degreasing, rinse and phosphate processes followed by e-coat which deposits the paint on the work. These processes determine the final quality of the product.
We can provide the most suitable equipment for the customers based on rich experiences in the latest technologies such as the next-generation conversion coating as well as fulfilling various customer requirements.
Pretreatment equipment
Ready for the next generation conversion coating
We provide the pretreatment equipment for conversion coating with comprehensive supporting of Nihon Parkerizing.
PALLUCID(Conversion coating chemical)
The chemical and water for surface conditioning are no longer required, which brings reduced equipment total length and lower waste water treatment costs.
The sludge generation is drastically reduced to lower than 1/10 compared to the conventional phosphating. Choking of nozzles and piping significantly reduces as well as the benefit of lowered operation costs and environmental burden.
The new chemical does not contain phosphorus, nickel and manganese therefore heavy metals have been reduced compared to the phosphating process.
Environmentally friendly pretreatment is realized according to strict effluent regulations.
We propose either dipping or spraying method according to the characteristics and size of the work. We also supply the equipment for the conventional phosphating.


E-coat equipment
Proposal to achieve sufficient anti-rust performance fitting customer's needs
It was common to apply spray painting or powder coating without e-coat in non-automotive industries.However, the demand for high anti-rust performance is increasingly high recent years therefore quite afew customers tend to adopt e-coat process.
We provide satisfactory equipment regarding the quality, paint consumption and operational costsbased on the rich experience developed in the automotive plants.
Example of continuous type e-coat equipment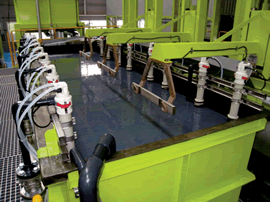 Example of batch type e-coat equipment

Evaporating unit (Ecoporator)
Wastewater evaporating process with simple operations
This is a wastewater evaporating unit to utilize the recoveredheat from an incinerator etc.
Unlike the conventional cohesion and sedimentation process, there is no effluent of wastewater through the evaporation condensation with a simple mechanism.
The operation is fully automated and is simple with a touch screen HMI.The maintenance or process data collection are not time consuming,and the management is simple too.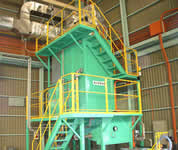 Specifications
| Type | Capacity(L/hr) | Width(m) | Height(m) | Depth(m) |
| --- | --- | --- | --- | --- |
| 500 | 500 | 3.6 | 6.0 | 1.4 |
| 1000 | 1000 | 3.8 | 6.0 | 1.8 |
Two types above are our standard.