FOR AUTOMOTIVE INDUSTRIES
Production/Quality management
The production managing system is nowadays essential for the quality control, maintenance works, trouble shootings and production with high energy efficiency.
We can propose the improvement of quality and production efficiency through visualization based on the know-how accumulated over 20 years operation.
Management system with excellent functionality and cost efficiency
PPCS-100(For individual equipment)
PPCS-1000(For overall paint shop)
We have developed the management system for the paint shop (Parker Paint-shop Control System) for the production monitoring over the long years.
The monitoring system for the individual equipment, PPCS-100(graphic operation system) or the overall monitoring system PPCS-1000(Windows based) provides the functions such asmonitoring of status, production management and historical trend collection resulting in energy savings, maintenance timing announcement, forecasting of abnormal and remote operation.
Our engineers are proficient in this system and can react for your requirements promptly.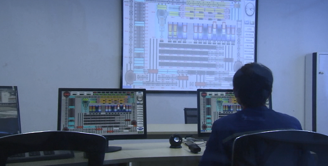 Example of paint shop central control room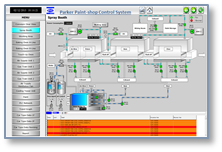 Screen shot of spray booth
flow chart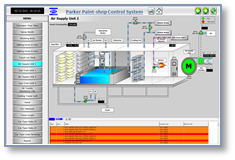 Screen shot of air supply unit
flow chart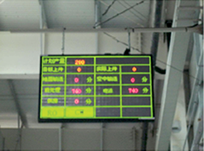 Example of electrical indication
For improved visualization